PUMPKIN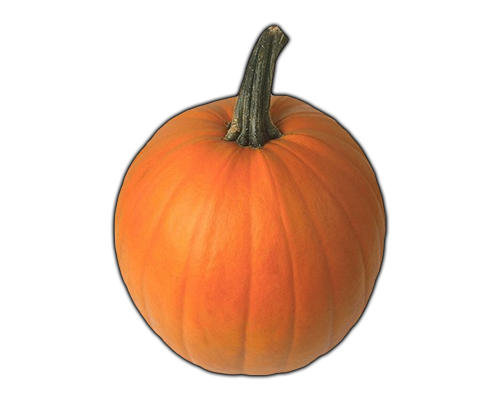 DESCRIPTION:
Pumpkin is a gourd-like squash of the genus Cucurbita and the family Cucurbitaceae (which also includes gourds). In the United States and Canada it is a common name of or can refer to cultivars of any one of the species Cucurbita pepo, Cucurbita mixta, Cucurbita maxima, and Cucurbita moschata. They are typically orange or yellow and have many creases running from the stem to the bottom. They have a thick shell on the outside, with seeds and pulp on the inside.
In British and Australian English, pumpkin generally refers to what North Americans call winter squash, but would include the above species. This article is based on the North American definition.
The word pumpkin originates from the word pepon, which is Greek for "large melon". The French adapted this word to pompon, which the British changed to pumpion and later American colonists changed that to the word we use today, "pumpkin". The origin of pumpkins is not definitively known, although they are thought to have originated in North America. The oldest evidence, pumpkin-related seeds dating between 7000 and 5500 B.C., were found in Mexico. Pumpkins are a squash-like fruit that range in size from less than 1 pound (0.45 kilograms) to over 1,000 pounds (453.59 kilograms).
Since some squash share the same botanical classifications as pumpkins, the names are frequently used interchangeably. In general, pumpkin stems are more rigid, prickly, and angular (with an approximate five-degree angle) than squash stems, which are generally softer, more rounded, and more flared where joined to the fruit.
Pumpkins generally weigh 9 - 18 lbs (4 - 8 kg) with the largest (of the species C. maxima) capable of reaching a weight of over 75 lbs (34 kg). The pumpkin varies greatly in shape, ranging from oblate through oblong. The rind is smooth and usually lightly ribbed. Although pumpkins are usually orange or yellow, some fruits are dark green, pale green, orange-yellow, white, red and gray.
Pumpkins are monoecious, having both male and female flowers on the same plant. The female flower is distinguished by the small ovary at the base of the petals. These bright and colorful flowers have extremely short life spans and may only open for as short a time as one day. The color of pumpkins is derived from the orange pigments abundant in them. The main nutrients are lutein and both alpha and beta carotene, the latter of which generates vitamin A in the body.
LESSONS
PRINTABLES
WORKSHEETS
COLORING PAGES
QUESTIONS
TEACHING TOOLS
VIDEOS