SICKLE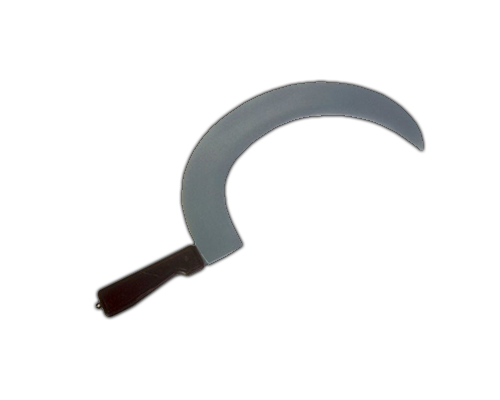 DESCRIPTION:
A sickle is a hand-held agricultural tool with a variously curved blade typically used for harvesting grain crops or cutting succulent forage chiefly for feeding livestock (either freshly cut or dried as hay).
The diversity of sickles that have been used around the globe is staggering. Between the dawn of the Iron Age and present, hundreds of region-specific variants of this basic forage-cutting tool were forged of iron, later steel. Within the industrial set-up, when the trip hammer took over from men swinging their strong arms at the anvil (between 16th and 17th century) some models of sickles were produced in up to six different sizes.
One noteworthy feature of sickles is that their edges have been made in two very distinct manners/patterns - smooth or serrated. While both can (albeit with a different technique) be used for cutting either green grass or mature cereals, it is the serrated sickle that still dominates the duty of harvesting grain - with other words the "reaping". Modern kitchen knives with serrated edges, as well as grain-harvesting machines use the same design principle as prehistoric sickles.
LESSONS
PRINTABLES
WORKSHEETS
COLORING PAGES
QUESTIONS
TEACHING TOOLS
VIDEOS