PIG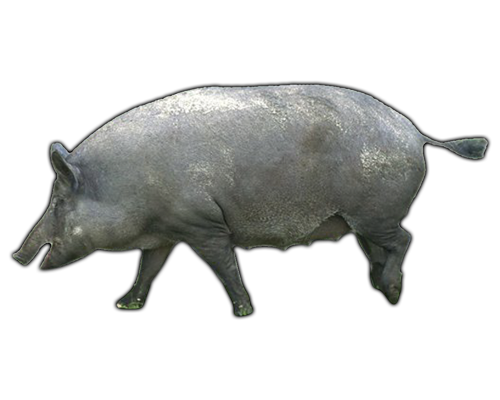 DESCRIPTION:
Pigs are a genus of even-toed ungulates within the family Suidae. The name hog most commonly refers to the domestic pig (Sus domestica) in everyday parlance, but technically encompasses several distinct species, including the wild boar. Swine is a collective noun generally used to describe pigs as a group rather than an individual, however it may often be implied in a pejorative manner to any living being expressing pig-like behaviour.
A pig has a snout for a nose, small eyes, and a small tail, which may be curly, kinked, or straight. It has a thick body, short legs, and coarse hair. There are four toes on each foot, with the two large middle toes used for walking.
Breeding occurs throughout the year in the tropics, but births peak around rainy seasons. A female pig can become pregnant at around 8-18 months of age. She will then go into estrus every 21 days if not bred. Male pigs become sexually active at 8-10 months of age. A litter of piglets typically contains between 6 and 12 piglets. After the young are weaned, two or more families may come together until the next mating season.
Pigs do not have functional sweat glands, so pigs cool themselves using water or mud during hot weather. They also use mud as a form of sunscreen to protect their skin from sunburn. Mud also provides protection against flies and parasites.
Domesticated pigs are commonly raised as livestock by farmers for meat (called pork), as well as for leather. Their bristly hairs are also used for brushes. Some breeds of pig, such as the Asian pot-bellied pig, are kept as pets.
LESSONS
PRINTABLES
WORKSHEETS
COLORING PAGES
QUESTIONS
TEACHING TOOLS
VIDEOS