ROOSTER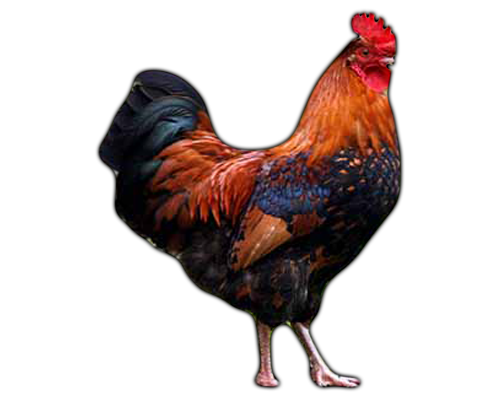 DESCRIPTION:
A rooster, also called a cock or chanticleer, is a male chicken (Gallus gallus) with the female being called a hen. Immature male chickens of less than a year's age are called cockerels. The oldest term is "cock," from Old English coc. It is sometimes replaced by the term "cockerel" (which properly refers to a young male chicken) in the United Kingdom, and almost always by "rooster" (a relative neologism) in North America and Australia. "Cock" is in general use as the name for a male of other species of bird, for example "Cock sparrow." "Roosting" is the action of perching aloft to sleep at night, and is done by both sexes. In the United States, "rooster" is preferred due to sexual connotations with the word "cock". The rooster is polygamous, but cannot guard several nests of eggs at once. He guards the general area where his hens are nesting, and will attack other roosters who enter his territory. During the daytime, he often sits on a high perch, usually 4 - 5 feet off the ground to serve as a lookout for his flock. He will sound a distinctive alarm call if predators are nearby.
The rooster is often portrayed as crowing at the break of dawn and will almost always start crowing before 4 months of age. He can often be seen sitting on fence posts or other objects, where he crows to proclaim his territory.
However, this idea is more romantic than real, as a rooster can and will crow at any time of the day. Some roosters are especially vociferous, crowing almost constantly, while others only crow a few times a day. These differences are dependent both upon the cock's breed and individual personality.
He has several other calls as well, and can cluck, similar to the hen. Roosters will occasionally make a patterned series of clucks to attract hens to a source of food, the same way a mother hen does for her chicks.
LESSONS
PRINTABLES
WORKSHEETS
COLORING PAGES
QUESTIONS
TEACHING TOOLS
VIDEOS